Posted by DeckWise
Wondering What Things To Consider Before Building a Deck?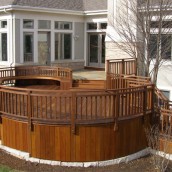 So, you're getting ready to build a deck, but you are wondering what things you should consider before starting? Well, at DeckWise® we desire to help you in as many ways as possible to let your dream deck become a reality. Though building a deck is fun and exciting, it's important that you know it is also a process. There are many things you should consider before drilling in that screw. We have listed a few suggestions on what we think you should consider before building.
Permits
First and foremost, check with your local Division of Building Code Enforcement. Typically, permits will be required that will inform you on certain codes that need to be followed. Being a rebel and building without a permit will probably result in a hefty fine or, possibly, having to tear down the deck and start over. The importance of the codes is to instill safety, assuring that inadequate construction did not occur. Also, you may want to review your HOA rules and regulations.
Location
The second consideration is establishing the proper location for your deck. Establishing the function of your deck is important, such as using it for entertainment or a pool deck. One you have a clear understanding of your deck's purpose, you should decided what type of access you want. We thought it would be smart for entertainment-based decks to be located closely to the kitchen. However, choosing the deck location is primarily up to the builder.
Budget
Naturally you must have the right allocated funds to produce your deck. Deck building is not a cheap task, so outlining your budget before starting a project is important. You have to decide how big you want and can afford your deck to be, the supplies that will be required to properly install the deck, and the amount of work that is required.
Design
Planning your deck layout is exciting because the designs are endless. If you are struggleing to think of your dream deck design do not fret. You can find many designs (some for free) online, in bookstores, at your favorite home improvement store or even at your local library.
Here are some things to keep in mind while you are choosing your designs:
Consider what you will be placing on the deck, i.e. a grill, dining table, lounge chairs, planters, etc., and make sure that the design will comfortably accommodate these items.
If you are planning on placing a dining table on the deck, you might want to allow roughly four feet of space on each side. This will give people sitting at the table room to walk around.
Consider future add-ons, such as a hot tub or fire pit.
Decide whether you want separated areas. This can be done by building multiple levels or using separators, such as flower boxes or built-in benches.
Don't forget to think about lighting. Many lighting options are installed before construction of the deck is complete, therefore you don't want to leave this step for last.
Once design is determined, we recommend laying out your design. You can simply do this on the grass with rope. Laying out the design will allow you to visualize the future deck better and to make sure you have enough room to fit all your desired items on the deck.
Decking Materials
This is where things can start to get complicated. With the abundance of different material now available, you have quite a few options to choose from. Although wood decking is still the most widely used, other types of material are becoming more and more prominent. Your options include, but are not limited to:
Softwood (Cedar, Redwood)
Tropical Hardwood (Ipe, Tigerwood)
Composites
PVC
Each option has positives and and negatives. Choosing the type of material depends on your desired overall look, budget, and labor ability. Some materials are easier to work with, have longer lifespans, and some require less maintenance. However, there is no such thing as maintenance-free materials. Additionally, some materials are not compatible with certain hardware. We recommend you talk with your local lumber yard and let them assist you in the discovery of which material is best for you.
Tools
Having the proper tools will be the ultimate factor on how successful and timely your deck was build. People who do not spend then time researching the proper tools will most likely have a result that they are not happy with. Also, building with proper tools will determine how durable your deck will ultimately be.
Below are a few tools we think are absoulteyly nesscary to create a nice and stable deck.
Drill, Countersink and Driver (since nailing deck boards in place is pretty much something of the past) – If you don't have one or more of these items, look for a model that has all three , such as the Drill & Drive. This will help your job move along about three times faster.
Deck Board Straightener (if you have chosen hardwood as your decking material) – This is another tool that will save you time and labor. But make sure you find one that is strong and self-locking so you can keep your installation a one-man operation. Check out the Hardwood Wrench™, designed to straighten deck boards with ease.
Deck Board Spacers – (because it's so important to create proper gap spacing) – These handy little accessories will help you create a long-lasting, beautiful deck. With deck board spacers, you simply place them between the boards, install the fasteners and then slide the spacers out. If you are interested in purchasing some that will prevent denting and marring, you may want our DeckWise™ Deck Board Spacers.
Fasteners
Last, but not least, you must choose proper fasteners. Contrary to belief, not all fasteners are created equal. Whether you opt to face screw your boards or you choose the hidden fastener option, there are certain things you want to watch out. First, watch out for anything with a Phillips head, as these can strip easily. Instead, look for high-grade stainless steel screws with star drive finish heads, such as DeckWise® Colormatch Deck Screws. Another important factor, especially if you will be driving the screws through hardwood, is the tip. Auger tips work best with minimal effort. And do not forget to ALWAYS pre-drill!
If you are looking for the ultimate hidden look, you should select a hidden deck fastener system, this is the system we always suggest. Choosing the proper hidden fastener is important because some are not designed to allow the wood to expand, which can eventually make your deck unstable. Our group of engineers have researched designs to create the DeckWise® Hidden Deck Fasteners™, which allow wood to expand and are extremely durable.
Well we hope this helps give you the knowledge you need to start purchasing materials and building your new deck!
For more building tips check-out our website at www.deckwise.com.