Posted by Admin Account
Wishing You Could Access DeckWise® Website From Your Android Mobile Phone?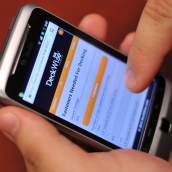 DeckWise® continues to get smarter! After numerous conversations with distributors, dealers and the contractors that use our products we are going mobile! Folks who are in the planning stages of building and selling decks can now get the answer to the question "How many Ipe Clip fasteners do I need?" anywhere! This new Decking Online App will give you the breakdown on the amount of fasteners needed and the amount of kits you'll need to order.
The DeckWise® Fastener calculator brings the tools we have available on our website out to the field. Get figures on the following DeckWise products:
Hidden Deck Fasteners
Hidden Siding Fasteners
Deck Tile Connectors
DeckWise® Screws
Within the coming weeks we will launch the updated version that will introduce the following other features.
Product description & image area
Installation instructions & Videos
Technical data section
Project Management with email/text integration
Dealer Locator
IOS version for IPhone users
As technology changes you can count on DeckWise® to be at the forefront.
We truly value your input; so if you have any ideas or suggestions that would make this tool more useful to you please send them to info@deckwise.com.