Posted by DeckWise
Want Screws That Match Your Deck?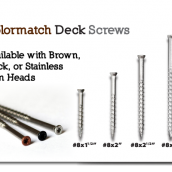 DeckWise® has created screws with the purpose to match your deck. Our DeckWise® Colormatch screws are offered in three different head colors: brown, black and stainless steel. Each screw is made from high-quality 305 grade stainless steel. Also, each screw features an auger tip for optimum performance with hardwoods and composite decking material.
To learn more about our DeckWise® Colormatch screws go to www.DeckWise.com.