Posted by DeckWise
Want To Cut Down Your Installation Time?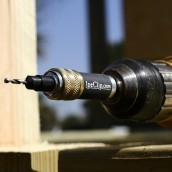 I saw an online post the other day on a deck building blog that I found quite interesting. The poster asked if anyone could give him some ideas on how to speed up the deck building process. He received over sixty replies, with many of them supporting one answer: Skip a step. Although they discussed a number of steps they felt could be skipped, one stood out more than the rest; one that we, here at DeckWise®, feel is extremely important if you care about the look and life span of your deck.
I'm talking about pre-drilling. Recently, I blogged about the reasons one should pre-drill so I'm not going to repeat myself. What I would like to do instead, is discuss how you can pre-drill without adding more installation time. Typically, when pre-drilling is involved it includes a number of different tools that you must constantly change out such as drill bits, countersinks, and drive tips. With this in mind, pre-drilling can definitely become a time-consuming task. But it doesn't have to be.
What if you could take three tools that all perform different functions and combine them into one? Imagine the time you would save and the hassle you would rid yourself of. No more worries about dropping parts or switching from one tool to the other. Imagine deck installation moving along three times faster, without skipping steps.
DeckWise® has just the right tool to do the trick. It's called the Drill & Drive and it is a 3-in-1 drill bit, countersink bit, and driver tip that will help speed up pre-drilling your hardwoods, countersinking for plugs, and driving screws. Budget-friendly and durable, the Drill & Drive is a complete kit that will take care of all your needs, efficiently. Simply drill, flip, drive (video).
It's wise not to skip steps, but even wiser to combine three steps into one. You're time is valuable and DeckWise® understands that.