Posted by DeckWise
Can I Buy DeckWise® Products In Europe?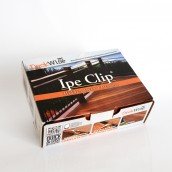 You may be familiar with the hidden fastening and deck building products we manufacture under the trade names Ipe Clip®, Hardwood Wrench™, and Ipe Oil™. Well, as of April 1, 2012 our innovative products are available throughout Europe under one label, DeckWise®. DeckWise® products are invented and manufactured in our state-of-the-art factory located in Bradenton, Florida, through our USA parent company, The Ipe Clip® Fastener Company. With over 20 years experience engineering, manufacturing, and shipping products to our network of worldwide dealers and distributors, The Ipe Clip® Fastener Company is widely recognized as the innovative decking specialist for the professional market.
DeckWise
®
building products include:
• Hidden deck fastening systems
• Hidden siding fasteners
• Stainless steel deck screws
• Color match screws
• Deck tile connectors
• Deck board straightening tools
• Hardwood deck oils & cleaners
• Many other solutions to install and protect decking
CENTRAL LOCATION FOR EFFICIENT PROCESSING DeckWise® International is the European sales office and warehouse for DeckWise® products. It's centrally located in Amersfoort, Netherlands. From this location, DeckWise® products are distributed to our growing network of dealers throughout Europe.
DECKWISE DEALER OPPORTUNITIESWhen you join the worldwide network of DeckWise® Dealers you can increase local market share without adding unnecessary risk. How? Dealers who stock the DeckWise® brands know they are giving their customers products that are reliable and long-lasting.
Stocking dealers receive the newest innovations of DeckWise® products and benefit from aggressive, factory direct pricing.
• Access to our expanded product line, stocked in our Netherlands warehouse
• Aggressive pricing structure
• Fast order shipping times
• Greater inventory levels for faster order fulfillment
• Increased online and conventional marketing efforts to bring more customers to you
• Faster speed to market for new product developments
• Improved customer service standards
JOIN THE DECKWISE DEALER NETWORK
We pride ourselves on the quality of our products. If you would like to become a DeckWise® Dealer the application can be accessed at www.deckwise.com.