Posted by DeckWise
Why Should You Use A Board Straightener?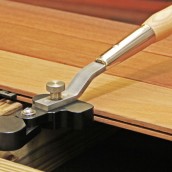 Currently, there are a couple of deck board straighteners in the market. These tools claim to make a deck builder's workload easier and range in styles from pry bars to complex gadgets with many moving parts. However, where these tools falter is in long-term performance and the ability to bend the hardest decking materials. One such tool that does address these concerns is the new Hardwood Wrench™ from DeckWise®.
The Hardwood Wrench™ is capable of a pushing force of roughly 1,100 pounds. That bending power is over eight times greater than any other deck board straightener available today. By employing a self-locking cam attached to a high-quality anodized aircraft grade aluminum dog with an ergonomic stainless steel and hardwood handle, the design of the Hardwood Wrench™ makes installing deck boards a true one-man operation.
Expandable and reversible, deck builders can use this advanced tool in tight spaces without worrying about impeding other boards. Additionally, it is compatible with both single and double joists, capable of bending multiple boards at once, and works with all types of decking material including pre-grooved lumber, composites and PVC.
That's how impressive the Hardwood Wrench™ was before the new and improved one hit the market. Now we are looking at a tool that does all that, plus some. DeckWise® discovered that if they enlarged the length of the cam, it would completely improve the functionality of the tool. The larger surface area allows for an increased range and more bending power, helping you create closer gaps with even the most extreme bowed boards.
In addition to an increased surface area on the cam, the pins on the Hardwood Wrench™ were modified and adjusted, creating a stronger grasp on the joist. This alteration turns the Hardwood Wrench™ into a dual-purpose tool, able to not only straighten deck boards, but now, siding boards as well.
With the small changes that DeckWise® made, they can now offer you the ideal tool for precise deck board installation. One tool, ten configurations, toughest bending power available, and dual-purpose. Some may claim to have 'better' and 'new and improved' products, but can't back it up. When DeckWise® makes this claim, they mean it. The Hardwood Wrench™ is truly the ultimate, indispensable deck board straightener professionals can use for all their decking, flooring, and cladding projects.