Posted by DeckWise
How Can I Cut Down On Installation Time?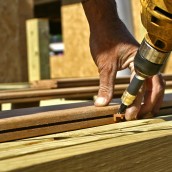 If you have ever read any of our previous blog posts, such as "Do You know The Importance of Pre-drilling and Got a Few Screws Loose," you would have heard us mention the DeckWise® Drill & Drive. So, what is this DeckWise® Drill & Drive that we always speak of ? Well, the DeckWise® Drill & Drive is a 3-in-1 tool you can use to pre-drill, countersink and drive in the screw. This makes installing deck screws three times faster than a standard drilling tool.
Are you building other things besides decks? Well, that is no problem. The DeckWise® Drill & Drive can be used for more than just deck projects. This tool is perfect for the occasional touch-up and other projects, such as home renovations.
Below is a video that demonstrates how the Drill & Drive™ works. This video is a testament to how simple the Drill & Drive™ really is to use.
To find more information about the Drill & Drive™ and our other DeckWise® projects check out our website at www.DeckWise.com