Posted by DeckWise
How Do You Protect Your Deck?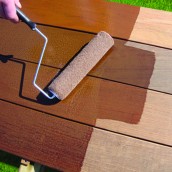 Are you pondering the idea of skipping the step of coating your deck with a finish and sealer? Are you unsure what benefits finishes and sealants really offer? Or are you not sure which finish and sealer products work best? Well, if you find yourself wondering any of those questions this blog post is for you! Here, at DeckWise®, we know the importance of applying the correct finishes and sealants to your deck. Ultimately, the use of proper finishes and sealants will determine how long your deck will last.
Lets begin with finishes. There are two types of finishes, oil-based and water-based. We believe using an oil-based finish is the better option for protecting your deck from harmful UV rays, water damage and mildew. Oil-based finishes provide excellent durability and result in a more even finished appearance. However, it typically takes longer to dry. The main reasons we favor oil-based finishes over water-based finishes is because water-based finishes do not penetrate the wood as well. Also, the water-based finishes have a tendency to peel. We offer an oil-based finish called Ipe Oil™. This finish was created to protect even the hardest woods, while giving your deck an even coated appearance.
Using the proper oil-based finish in coordination with a good sealer will increase the structural integrity of your deck. The function of deck sealants is to prevent the end-cut from end-checking and cracks. We recommend our Ipe Seal™ . Our Ipe Seal™ is a wax emulsion sealer that extends the life of each deck board while preventing the boards from end-checking and cracking.
Below, we have provided you with a little insight to what items you will need for proper installation, and inform you of the best application time.
Items needed:
a broom
water hose
3/8″ nap paint roller
dry rag
When to apply finishes and sealants?
Depending on the type of wood drying method, you will need to apply the finishes immediately or apply the finishes once the wood is completely dried. Kiln dried wood allows you to apply the finishes immediately, while air dried wood requires you to wait until the wood has completely dried and acclimated to your environment.
How to properly apply finishes and sealants?
After you determine which wood you are using, its time to apply the finish. You want to first sweep your deck, which is to assure you that all debris inside the cracks is removed. Secondly, wash down the deck boards with a hose and let dry (drying usually takes about 24 hours). Next, use a paint roller to apply the finish. After a few minutes, use a dry cloth to rub in the excess liquid and let it dry completely.
Wah-lah, you're done!
To read more about our finishes and sealants access www.DeckWise.com.