Posted by DeckWise
What's So Great About DeckWise® Products?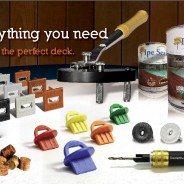 DeckWise® is a state-of-the-art manufacturing company specializing in the latest and greatest decking tools. Our American made tools and fasteners are designed and created by our in-house team of engineers, designers, machinists, mold makers and experts within our wonderful manufacturing facility. Every item we sell is manufactured from high-grade and long-lasting materials, which is expertly engineered to withstand the elements and corrosion. Our products, such as the Hardwood Wrench™, DeckWise® Hidden Deck Fasteners, Drill & Drive™ and Ipe Oil™, are just a few products created to help you construct better, long-lasting decks.
However, we are more than just a manufacturing company – we want to help you create better decks, by providing you with the most efficient and high quality tools possible. We succeed at this by offering innovative products that increase building efficiency and are simple to use. We believe these factors are crucial for any successful deck builder. Our products are all designed to be effective yet simple. We stand by our claim, "Work smarter, not harder." We want you to leave the hard work to us. With our proven track record of high-customer satisfaction, our products are your smart solution for tough decks.
Below are links to our products. Click on the links to read more about each item.
You can also learn more about our products and company by accessing www.DeckWise.com
Hidden Deck Fasteners
Hidden Siding Fasteners
Hardwood Wrench™
Ipe Oil™
Ipe Seal™
Colormatch Deck Screws
Deck Tile Connectors
Hardwood Plugs
Drill & Drive