Posted by DeckWise
Why You Should Protect Your Hardwood Deck?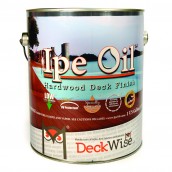 You finally built the deck of your dreams. The last fastener has been installed and the hard work is done. You can now sit back and relax. As you look at your beautiful masterpiece, you know that you're going to enjoy it for years to come. Or are you? If you didn't use a protectant as the final step, your hardwood deck may not have the life span you are hoping for.
All wood, including premium hardwood such as Ipe and Tigerwood, is at risk of developing issues such as fading (or 'silvering'), splitting, rotting, shrinking, swelling, and warping. This is caused by a number of factors including climate, insects, fungi and bacteria. Additionally, the cut ends of deck boards are vulnerable to certain elements and, over time, can start to end-check (split or crack), leaving you with an unattractive and uninviting deck.
Reason enough to take that final step and apply wood finish and end grain sealant to protect it from these factors, right? But how do you know what to look for? What type will extend the life of your deck for the longest period of time?
If your deck is built with hardwood you want to purchase a hardwood deck finish, such as Ipe Oil™, for the face of the deck boards. The most important aspect to look for in a deck finish is excellent penetrating power because, as the name suggests, 'hardwood' is hard and some finishes are not powerful enough to penetrate this type of wood. Another important factor is the amount of UV protectant it offers to prevent fading.
As mentioned above, Ipe Oil™ is an excellent choice. It provides superior penetration and, with its oil-based natural wood finish it is specially formulated to protect and preserve your hardwood deck, safeguarding its natural elegance.
As for protecting the end cuts, Ipe Seal™ is an ideal choice. It is a wax emulsion sealer that forms the barrier needed to keep out moisture and prevent end-checking, extending the structural integrity of your deck.
Choosing the proper materials for your deck is important, but so is protection. After all, you want your dream deck to last a lifetime. Discover more at www.deckwise.com.