Posted by DeckWise
How Do I Straighten Bowed Deck Boards?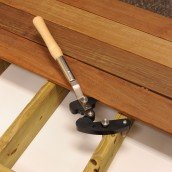 Have you ever received warped wood and were unsure what to do with it? Well, the new developments in straightening tools provides a solution to the issue. Previously, methods such as using a scissor jack, pry bar, and pipe clamp were used in attempts to straighten wood. Those methods are not only timely, but are hard work and often require more than two hands. At DeckWise®, we have created a tool, the Hardwood Wrench™, that will shorten your straightening time and lighten the work load. With the use of this tool, installation becomes a one-man operation.
The U.S. patented Hardwood Wrench™ is a self-locking board straightening tool that offers endless benefits. With its larger self-locking cam, stainless steel and ergonomic hardwood handle, and adjustable joist pins it straightens deck boards with ease. But wait, there's more. The Hardwood Wrench™ is expandable, reversible, dual-purpose and has a pushing force of roughly 1,100 pounds.
Sounds pretty awesome, right?
Here's how the Hardwood Wrench™ works: You start by placing the adjustable joist pins on the joist and butt the cam against the board. Turn the handle to straighten the deck board, which automatically locks the cam into place. That's it!
Both of your hands are now free to install the fasteners. To remove the Hardwood Wrench™ you simply swing the handle to unlock. One other tool you may want to consider using, which compliments the Hardwood Wrench™, is DeckWise® Board Spacers. These brightly color-coded spacers come in five different sizes and are meant to work flawlessly with the Hardwood Wrench™. These spacers assure you that you have even gaping between your boards.
If you are interested in the amazing new Hardwood Wrench™ and want to find out more visit www.DeckWise.com. This site also offers further information on all our other products.