Posted by DeckWise
What Tools Do I Need For Hardwood Decking?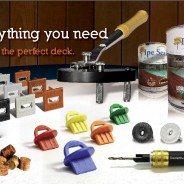 Well, our DeckWise® Hidden Deck Fastener Complete Kit includes all of the tools you would need to complete your decking project! We provide you with the stainless steel screws to drill into the first and last board, and to screw into the hidden deck fasteners. The plugs needed to cover those screws on the first and last board. A high speed drill bit for pre-drilling and a screw gun tip for a cordless drill is also included. To assure even space gaping, we also provide you with our DeckWise® Deck Board Spacers. And last, but certainly not least, our hidden deck fasteners. Placed on top of this kit is a helpful instruction sheet to get you started.
In case you missed all that the kit includes:
190-8×2" Stainless Steel Trim Head Screws
12-3/8" Tapered DeckWise™ Plugs
1-1/8" High Speed Drill Bit
1-T10 Star Drive Screw Gun Tip
3-Deck Board Spacers
175-DeckWise™ Hidden Deck Fasteners
1-Instruction Sheet
We also offer a DeckWise® 100 count kit, which is similar to the complete kit, but you do not receive DeckWise® Deck Plugs, the high speed drill bit or the screw gun tip. This kit also does not include as many fasteners or stainless steel screws.
This 100 count kit includes:
100-DeckWise® Hidden Deck Fasteners
100-Stainless Steel Trim Head Screws
3-Deck Board Spacers
1-Instruction Sheet
Choosing between the two kits depends on how big your building project is. Each kit covers different square footage and is dependent on the board size and joist spacing. If you need help determining which kit to use, you can access our website at www.DeckWise.com or call one of our sales representatives at (941)896-9851.