Posted by DeckWise
What's Better, Pre-Grooved Decking or Routing It Yourself?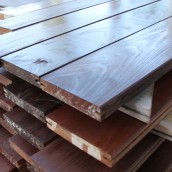 Are you about to construct a deck, but are wondering whether you should buy pre-grooved decking or cut the boards yourself? Well, this is a question that many people come across. At DeckWise®, we have found that cost and convenience are really the only differences between purchasing pre-grooved boards and cutting the boards yourself.
If you are a do-it-yourselfer, you may prefer to cut grooves into the boards yourself. If you do have the time to cut them, you could save money on materials by using a biscuit joiner or a router. However, cutting those grooves yourself presents you with the possibility of not making even, precise cuts. if you are hiring someone else to build your deck the labor cost will increase if contractors need to cut the grooves themselves.
But like we previously mentioned, the cost factor is the ultimate factor on which method you choose. Both of the methods are equally safe and secure. If you are interested in cutting the boards yourself, we have posted a video below on how to groove wood using a biscuit joiner.