Posted by DeckWise
Got a Few Screws Loose?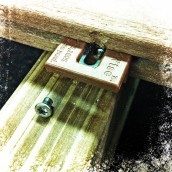 Don't let stripping and breaking screws drive you crazy. The issue of stripping and breaking screws can result in a building disaster and can really become irritating. It is crucial for users to understand the correct building materials and tools needed to successfully complete their projects.
Here at DeckWise®, we specialize in the tools needed for proper installation. And our first-hand experience provided us with the knowledge to inform you with a few tips to prevent stripping and breaking on your future projects.
First, and most importantly, we recommend pre-drilling no matter what type of screw, fastener and wood you are using.
Next, you should make sure you have the proper tools to successfully complete your project. Choosing the correct screws can help avoid stripping and breaking. DeckWise® offers screws that are of higher quality stainless steel, which makes the screws less susceptible to corrosion. Using these high-quality screws, when properly installed, will give you a longer-lasting and more durable result. Though choosing the right screw for you is important, using the right drill will also affect your finished project. When working with dense exotic hardwoods, we recommend a cordless drill with an adjustable clutch. Using tools that are too powerful can strip, break or over-tighten the screws and fasteners.
The last tip we have for you is to make sure your driver tip is seated properly in the screw head and that it is not worn out. Having the correct alignment can sometimes be difficult to see, take a moment and double check that your alignment is approximately 45 degrees.
You can learn more tips like these and about our products by going to our website at DeckWise.com